 Compensator round
Compensators are flexible components installed for connecting pipelines and flue gas dampers. They are used to maintain appropriate compensation of displacements in conduits and are intended for operation in cold and hot air installations as well as loose material transfer installations in conduit systems. They serve both the compensation of mechanical misalignment and noise and vibration reduction.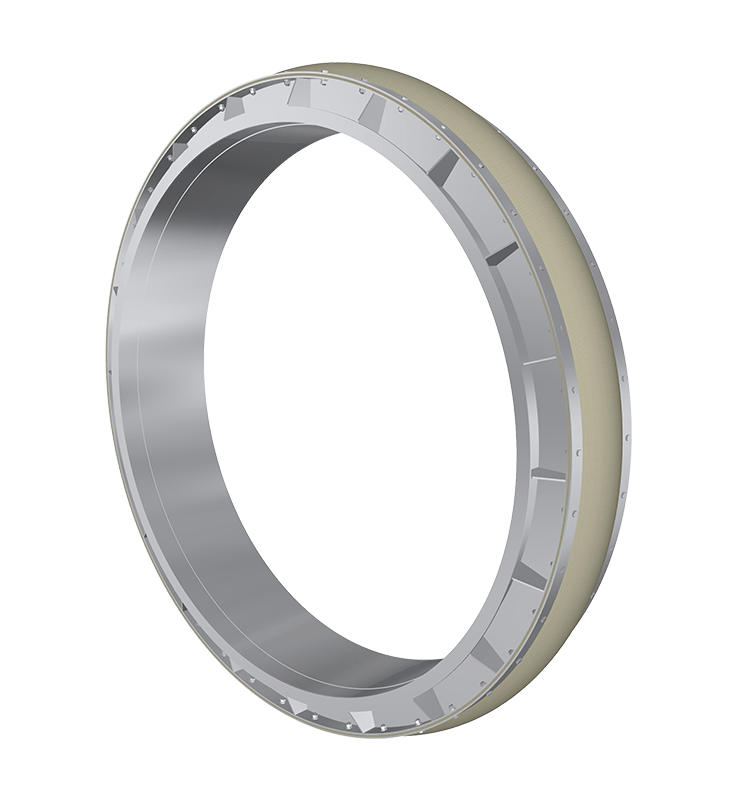 DSM also offers high quality fabric compensators.
The soft material is mounted on a steel frame or – in the case of low load – with the use of straps connected to the pipeline.
We tailor our compensators to the requirements of a given installation. Depending on their application, fabric compensators are produced in one-layer or two-layer variants. The multi-layered structure enables combining various functions, such as insulation, tightness and pressure surge management. Soft material compensators are characterised by low weight and low reaction forces. Such compensators are suitable for large dimensions with low operating pressure and gaseous media (air, flue gas).
The choice of material depends primarily on the tightness requirement and on the resistance to the medium, temperature and mechanical strength. Thanks to that our products are developed based on innovative ideas.
Our products are suitable for installation in:
Power plants

Combined heat and power plants

Pulp and paper industry

Brickworks

Cement works

Metallurgical industry

Shipbuilding industry

Coke industry
As a part of our cooperation with you we offer:
Measurement of conduits in the facility

Customised designs

Development of soft parts of the connecting element

Development of steel parts of the connecting element

Assembly

Supervision

Technical service
Contact
See in which sectors we work
Kompensator okrągły
W naszym asortymencie znajduje się szeroka gama komponentów niezbędnych do prawidłowego działania układów spalin i powietrza w licznych elektrowniach zawodowych, ciepłowniach, stalowniach i zakładach przemysłowych. Mogą być montowane między innymi w instalacjach odprowadzania spalin bądź kanałach, w których przepływa gaz o wysokiej temperaturze. Niektóre z nich wykorzystywane są również do tłumienia drgań i kompensacji wydłużenia termicznego. Dostosowując ofertę do zróżnicowanych potrzeb naszych Klientów, w ofercie znajdują się kompensatory rurowe, osiowe, kołnierzowe bądź okrągłe.
Kompensator rurowy montuje się w rurociągu. To jedne z najpopularniejszych rodzajów kompensatorów, których głównym zadaniem są właśnie szczelne połączenia rurowe. Rurociągi, w których przewodzone jest ciepłe powietrze lub inne medium, wydłużają się w zależności od tego, jaki materiał się zastosuje oraz jaka temperatura panuje wewnątrz danej instalacji. Możemy zaoferować również kompensator osiowy, zwany także w środowisku przemysłowym kompensatorem mieszkowym, który jest chętnie wybierany między innymi ze względu na zajmowanie niewielkiej przestrzeni. Oferta obejmuje również kompensator kołnierzowy, którego nazwa dotyczy charakterystycznych zakończeń urządzenia, które najczęściej wykonywane są z wytrzymałej i solidnej stali. Kompensator okrągły wykorzystywany jest najczęściej w okrągłych kanałach oddymiających.
Pomagamy naszym Klientom w doborze najlepszych kompensatorów. Musimy wziąć pod uwagę między innymi sprężystość osiową (czyli siłę potrzebną do odpowiedniego ugięcia), przeznaczenie danego kompensatora, medium, które będzie przez niego przepływać (powietrze, spaliny, inne gazy, ciecz czy materiały sypkie), a także ciśnienie czy temperaturę pracy. Stawiamy na profesjonalne doradztwo i projektowanie rozwiązań na miarę indywidualnych potrzeb naszych Kontrahentów.
Zainteresowanych współpracą zapraszamy do bezpośrednio zapoznania się z naszą ofertą na opisywane w tym miejscu kompensatory okrągłe, ale także kompensatory prostokątne, rurowe, osiowe lub kołnierzowe, a w razie jakichkolwiek pytań - do bezpośredniego kontaktu z ekspertami z naszego przedsiębiorstwa.
Skontaktuj się z nami!